---
BUT FOR WOMEN...
Dr. Brahms. Johannes Brahms
A film by János Darvas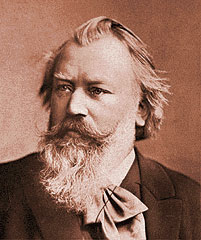 This fascinating, music-packed documentary examines the life and work of the great romantic composer from the viewpoint of his relationships with women.
Johannes Brahms has always been viewed as a lifelong bachelor in the old-fashioned sense of the word. A sociable man who enjoyed a beer and a good time, he loved women - but somehow the time and place was never right to commit to one. He had a long and serious (but probably unconsummated) relationship with Clara Wieck, the widow of Robert Schumann. There were also many other liaisons of more commercial nature (his housekeeper muttered after his death that he was a "very naughty old gentleman").
But the naughty old gentleman produced some of the greatest works of German romanticism - symphonies, songs, chamber works and concertos of profound emotion and accomplishment. How much this was because, and how much in spite, of his unsatisfactory love life is a moot point, a point explored in this absorbing documentary.
The programme also includes a remarkable recording - Brahms himself playing his Hungarian Dance No 1 in 1889, in one of the earliest sound recordings ever made. It may be full of hiss and wind, but it's extraordinary to be able to hear a composer who died over a century ago interpreting his own work. It is contrasted with a modern recording from 1995 - the difference is amazing, artistically as well as technically.
A programme that is sure to have you appreciating anew the work of an outstanding composer and enigmatic man.
© Artsworld

---