---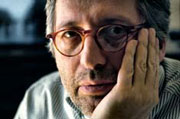 ---
János Darvas (Steinberger)

Curriculum Vitae
1948 born (as Juan Steinberger) to Hungarian parents in Santiago de Chile
1948 parents return to Hungary after emigration

1948-1969 Budapest
1966 graduation (Abitur)
1965-1969 studies music at the Béla Bartók Conservatoire
1969 immigrates to Germany
1970-1973 studies percussion with Christoph Caskel in Cologne
1970-1974 collaborates with Karlheinz Stockhausen
1972 attends the "Darmstadt Summer School for New Music" in Darmstadt
1973-1979 teaches percussion at the Music Conservatory of Cologne
1977 première "Hörfilm" at the "World Music Days" in Bonn
---
Since 1980 freelance TV director
* Filmography: Documentaries
* Filmography: Concert-Programs and Studio-Recordings
* Opera Productions
* Serials, Live-TV-Broadcastings etc.
Working in Germany,
France, Great Britain, Israel, Italy, Austria, Poland,
Switzerland, Spain, Czech Republic, Hungary, USA
Internet work:
* 1997-1998 Editor-in-Chief - Klassik Online
* 1999 - Web Development & Consulting
Memberships:
IGNM - Internationale Gesellschaft für Neue Musik
(International Society for Contemporary Music)
IMZ - Internationales Musikzentrum Wien
(International Music Centre, Vienna)

---
János Darvas-Steinberger lives in Cologne with his wife Kata Steinberger (née Herskó). They have two sons, David and Robert.
---
H o m e P a g e